What could be sweeter next to eating honey straight out of the jar? Spreading it on your favorite treat evenly. And how do you achieve this? With a honey dipper, of course!
A honey dipper is not just an ordinary kitchen tool that you can easily replace with a spoon. It may look ordinary, but it has its specific purpose.
09/28/2023 04:02 pm GMT
Why use a Honey Dipper?
Surely a better way to enjoy your favorite syrup is with a honey dipper.
When you want to avoid the mess or get sticky hands when enjoying your favorite golden syrup, a honey dipper is what you need. This is especially so when you do not have a honey dispenser at hand too!
Also called a honey stick or wand, it may look fancy. But, for some enthusiasts, it is more than an accessory but a tool with a purpose.
Regardless of its name, it is appropriate for use on more other than honey. Many people use this accessory to trickle down their favorite syrups, melted chocolates, and caramel sauces.
With the honey stick, you now have a better way of enjoying your golden liquid on your favorite food. You have better control in spreading your favorite honey and do not just have it all in one place.
Honey dippers are generally about six inches in length. But nowadays, these sticks come in a variety of sizes. Not only that, but they are also available in various styles and make.
The variety of materials these sticks are made from greatly varies. You have the selection to choose the best stick from traditional wood material to stainless steel to glass.
Looking Where to Buy a Honey Dipper?
We looked at honey dippers available to purchase online and found the best ones on Amazon.com. Your local honey stores may have the recommended tools you can use for honey.
Not all honey sticks or dippers are made equal. Whatever your choice is as to style, size, and make, there are lots of options for you.
Best Honey Dippers
Choosing the best honey wand would entail you to consider your preferences. As mentioned, there are a variety of materials these dippers are made of. While most of them are made of wood, this has quite evolved through time.
But on a general note, any honey stick may be made of wood, stainless steel, glass, or silicone. Hence, despite your material preference, the best honey stick is one that would serve its purpose.
wooden honey dipper
Traditional wooden honey dippers are handcrafted using natural olive wood. Wooden sticks are mostly better than using spoons as the grooves prevent the honey from dripping as long as you twirl them. But wooden material needs more care and cleaning compared to those made from glass or steel.
One good thing about these types of dippers is that they come in many sizes, so you have a choice depending on the size of your honey container too. Also, there are options that sell them in bulk orders too!
BEST WOODEN HONEY DIPPER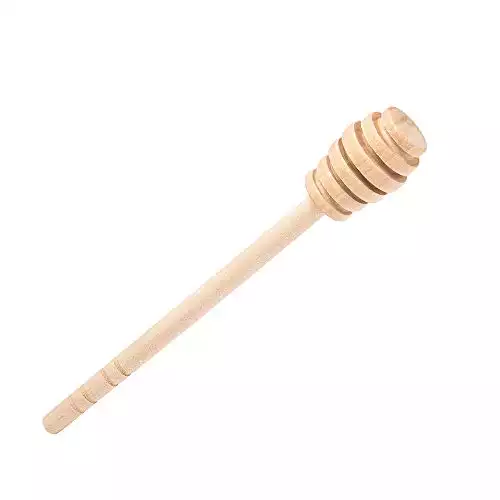 DESIOLE Wooden Honey Dipper Sticks
The grooves on these wooden dippers help you easily collect and dispense honey from the jar.
Made of high-quality wood, which is lightweight, harmless, yet durable.
Great for drizzling honey, maple syrup, blackstrap molasses, melted chocolate, caramel and more. Won't scratch surfaces.
ALSO GREAT!
20 Pcs Honey Dipper Sticks - Wooden Honey Dipper
Each honey dipper is 3" in length total, the actual spiral dipper is 3/4" and 2 1/4" is the stick. Perfect for 1-4 oz jars of honey.
Honey server sticks are made of premium natural wood, very sturdy, food-grade and eco-friendly.
You can ladle the perfect amount of honey from a jar and then drizzle the honey over your toast, cheese, biscuits and sandwich or in your drinking.
Stainless Steel Honey Dipper
Steel honey dippers allow for the functionality to also be used to stir your coffee, tea, or juices. This material is much easier to clean compared to wood dippers.
BEST STAINLESS STEEL HONEY DIPPER
Honey and Syrup Dipper, Honey Spoon - 6.3 Inch
Comfortable size for daily use, easy & cool.length:6.3 in,width:0.79 in,weight:100g.
Great quality:Made of food-grade 304 stainless steel, solid and durable,easy to clean.
Convenient to use:The grooves on these honey dippers help you easily collect and dispense honey from the jar.
ALSO GREAT!
Honbay 4PCS Stainless Steel Honey Dipper Sticks
Material: 304 Stainless Steel; Length: 21cm/8.27inch
Perfect for collecting and dispensing honey from the jar and also for stirring coffee, drink, milk, eggs, and more.
Solid Texture, Durable, Not Deformed, Anti-Corrosive, Easy to Clean.
glass honey dipper
If you are looking for a touch of elegance among your cooking and baking tools, the glass material certainly adds it up. Glass honey dippers are also easy to clean.
The problem with this, though, is that it is breakable. Hence, you need a little extra care in using it due to the fragile nature of the material.
BEST GLASS HONEY DIPPER
2 Pieces Glass Honey Stick 6-Inch Honey Spoon
It is very suitable for drinking honey in spring. Using this glass honey stick will not destroy the original taste of honey, nor will it destroy the nutrients in honey
The glass material looks more simple and fashionable, and is easy to clean and not easy to breed bacteria.
ALSO GREAT!
Honbay 1PCS Glass Honey Dipper Stick (6 Inch)
Material: Glass
Capacity: 15*3*3cm/5.91*1.18*1.18inch
Perfect for honey, jam, molasses, maple syrup, fruit syrup, caramel and so on.
Silicone Honey Dipper
These drippers easily allow the honey to drip off. Honey does not stick to silicone for long. Hence, you can maximize every drop of your golden liquid with a silicone honey wand.
BEST SILICONE HONEY DIPPER
UgyDuky 2-Pack Silicone Honey Dipper
The grooves on this honey dippers help you easily collect and dispense honey from the jar.
Made with high quality silicone and wood, lightweight, harmless yet durable.
Easy to use and hand wash. (Random Color Delivery)
ALSO GREAT!
R and M 4825 Silicone Honey Dipper
6" long reach, Stainless Steel Handle, Good grip knob
Silicone Head for easy cleaning

Long lasting due to the silicone head
How to Use a Honey Dipper
A honey stick has a rounded handle and a bulbous head at the end with grooves. These grooves allow you to collect honey.
This fancy kitchen tool remains handy, helping you scoop and work your favorite honey without the mess on your countertop.
But how does it actually work?
Proper usage entails you to work the stick continuously by turning it before the honey drip.
Holding the stick on one end and rotating it would enable you to drop honey from its head on the other end over your foods in a slow cascade. Then, you can easily spread your golden syrup evenly without some mess.
Simple enough but most effective.
Can I use Spoons Instead?
You might ask, doesn't a spoon serve the same purpose?
While you can utilize a spoon, it simply isn't the option for the purpose.
Using spoons would dump a chunk of nectar in a solitary spot. On the other hand, a honey stick delivers a gradual spill, permitting you to get an even cover of honey. You get an even trickle which is easy for you to handle.
How do you Clean a Honey Dipper?
Cleaning a honey dipper does not entail too much work.
When You Have dippers that come with Honey Jars
When you have a jar with its own dipper like this one, you don't have to clean or wash your dipper after every use. Just put the dipper back in the jar. Allow it to float above your golden liquid. The honey on the dipper will gradually drop back into the jar, leaving the dipper clean.
However, practice this only when you are sure that your dipper did not touch any other surface. Otherwise, your honey may be contaminated with bacteria and will spoil eventually.
When you see the need to clean the dipper, take out the dipper and wash it thoroughly with warm water. Dry the dipper before putting it back in the jar.
When You Have Individual Dippers
No jar to put your dipper back on? Don't worry, as cleaning your dipper is as easy as cleaning your other kitchen utensils. Wash it with warm water or in the dishwasher. Remove all honey, ensuring the dipper is clean, especially between the grooves. Allow it to dry before storing it.
Did You Miss These Beekeeping Posts?