Once you've caught the beekeeping fever, the questions rush at you at once.
I don't have a garden. What will my bees eat? What is sugar water? How much syrup do they need? How do I make sugar water? What happens when I put too much sugar or too little? What if I poison them?
Unfortunately, we get so caught up with the 'what' that we forget the more important question: why.
Since bees existed before beekeeping did, it does seem puzzling that these creatures suddenly need us to feed them sugar syrup.
So before we tackle how to make sugar water for honey bees, let's understand why we feed bees sugar water in the first place.
Do You Really Need to Feed Bees Sugar Water?
In truth, feeding sugar water is a topic that is hotly debated.
The short answer is bees don't really need sugar water, also known as sugar syrup. They need food.
Sugar syrup is only a substitute when the real thing is unavailable. I like to think of it as an IV fluid. It only comes into play when you are unable, for whatever reason, to ingest your regular type of food.
Once your body is able to accept food, even in a pureed form, that's what you switch to. The same can be said of sugar syrup for bees.
When honey and nectar are available, the bees may turn their noses up at your sweet sugar water. They don't need it. It's like trading in a home-cooked meal for something store-bought.
What if you didn't have a home-cooked meal? You didn't even have the individual ingredients. In fact, there's nothing in the pantry, and even the ketchup in the fridge is gone. Store-bought food sounds like a dream then, or in this case, sugar water from a beekeeper.
Sugar Syrup is Man's Way of Attempting to Clone Nature
You may be wondering what sugar water does to bees. Well, depending on the time of year, your sugar syrup ratio is intended to mimic the quality of food available for bees.
Springtime is a period of nectar. If there's plenty of food, then we can feed plenty of bees.
With spring comes the building of a comb, which encourages the queen to lay thousands of eggs a day to make the most of the bloom season.
Unfortunately, nature can play tricks on these creatures by creating the illusion of spring with warmer temperatures early and then unleashing a cold snap for weeks. This can spell disaster for a colony.
When the temperatures start to warm up, the queen starts to populate the hive, and they eat through their stored honey. When the cold weather suddenly returns, they are stuck indoors with no food and easily starve to death.
Sometimes, the weather warms before the blooms appear, and again, you have many mouths to feed but simply no food. That's when they need a little help, and you may need to start to feed bees some sugar water.
Why Bees Didn't Always Rely on a Nectar Substitute (AKA Sugar Water) for Feedings and What Has Changed
Well, thousands of years ago, the world was their oyster, as they say. The hills were adorned with a tapestry of wild bushes and flowers that took turns displaying their beauty in the form of flowers. Blooms of a wide variety were whispering 'come-hither' calls to the bees by their scents.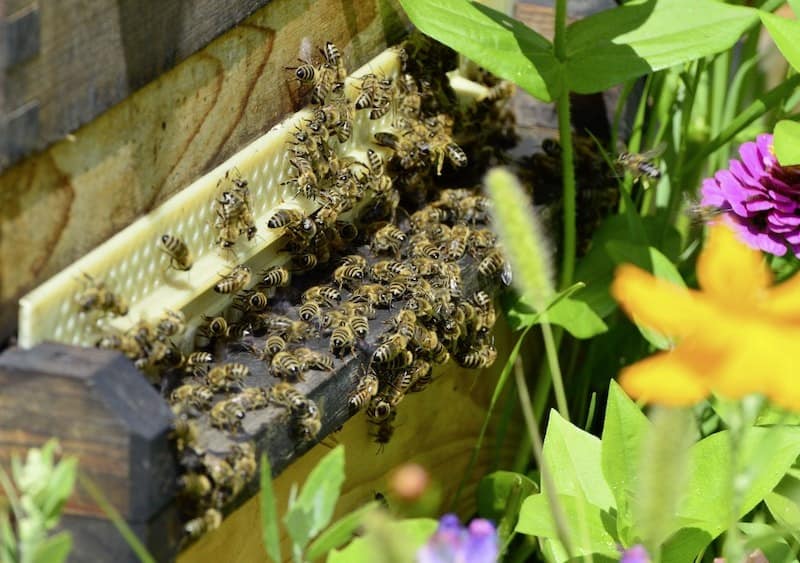 Then we came along and yanked the entire wild flora. We replaced it with food crops and buildings that we needed.
Since the honey bee was introduced to the Americans pretty recently (considering the age of the world), they missed out on the good ol' days and made do with what they found.
Add to that, the population density of colonies is much higher in the apiary than in the wild.
They share a food source that is fine in a season of plenty but dangerous when nature takes a turn.
In a perfect world, we wouldn't need to provide a nectar substitute. The seasons would come like clockwork, the bees would always have enough to forage on, and we could both thrive.
Sadly, we have drought, cold snaps, diseases, and pests like varroa that wipe out crops and overeager beekeepers who take more honey supply from the hive than the bees can afford to lose.
In order to ensure the survival of your bees, one of the many tasks you have to undertake is to make sure bees remain fed using a sugar water solution.
What is Sugar Water, and How do You Make it?
Sugar water for bees is man's version of nectar and is made from, yup, you guessed it, sugar. Many medium and large-scale beekeepers use lots and lots of sugar.
After we decided to make them our handy little subjects, we became responsible for keeping bees healthy, especially when Mother Nature was having a fit and the natural food source was insufficient.
Bees need nectar, not just for sustenance, but as an energy source for the difficult job of building comb. Wax secretion doesn't come easy, and the bees need a lot of energy to get it done.
That's why swarming, which is how new colonies are formed, happens in spring when natural nectar is in plenty. There's enough food for a new family of bees to build their home.
When a new beekeeper receives a new package of bees, there is a chance that the bees can go out and collect enough nectar and pollen to get the energy to build a honeycomb.
But getting a new package of bees is very different from the natural swarming of bees. For one, when bees swarm, they know exactly where they are.
They have a map of their surroundings and already have an idea of where they can source natural nectar from flowering plants.
When you get a package of bees, they have to begin their expedition with no map and no information. So they need help, which comes in the form of sugar syrup.
Now let's take a closer look at how to make and mix sugar water (hint: know your ratios!) for bees depending on the time of year.
Seasonal Sugar Water Recipes for Honey Bees
How you make sugar water for your bees will depend on the season, as the necessary ratio needed to mimic the nectar substitute varies depending on the season. Below, we discuss important bee sugar water ratios for the spring and fall in addition to the method you use to make it.
Feeding Bees Sugar Water in Spring
Ingredients:
Method
Mix the water and the sugar in a ratio of 1:1. It is better to use hot water because it helps to dissolve all the sugar crystals.
Then, let the syrup cool, put it in a feeder, and present it to your six-legged companions.
You could add a drop or two of essential oils, such as lemongrass or spearmint which helps prevent mold growth and acts as a dietary supplement to the bees.
It has been said to help the bees fight both varroa and tracheal mites. It also helps the bees locate the syrup because of its strong scent.
One very important point to note is that this sugar ratio is an approximation.
Therefore, if you have a little more water or sugar than the exact 1:1 ratio, there's no need to throw it out.
The bees don't have laboratories where they ban your product because it's a tablespoon or two above the recommended ratio.
The sugar-to-water ratios, though different, are still considered palatable. Mixing syrup for honey bees should be the least of your beekeeping worries.
Feeding Bees Sugar Water in Autumn/Fall
Ingredients
Water
White sugar (cane sugar or bakers sugar. The finer, the better)
Container
Method
Mix the sugar and water in a ratio of 2:1. It's two parts sugar and one part water. It's thicker than the spring syrup.
That's because the fall-feeding syrup mimics the consistency of honey, while the spring syrup is more like nectar. You feed in the fall to help your bees store food for the winter.
You make it thicker so that dehydrating it to the right moisture content is easier for the bees.
Since you'll be adding twice as much sugar in a single unit of water, it helps if you heat the water first to help dissolve all the crystals.
There are those that boil the water to kill any microbes in it to ensure it's safe for the bees.
Feeding honey bees sugar syrup in winter is usually done when the bees are low on honey stores.
If you approach a local beekeeper at your beekeeping community, they will tell you how much honey their bees require to make it through the winter.
Many will use the weight of the hive as an indicator to determine if the pantry is full.
Sometimes, Mother Nature just didn't provide enough food for the bees.
Other beekeepers harvest honey without realizing that the bees don't have enough for themselves.
In both cases, timing this feed is vital because bees won't touch syrup that is below 50° F, which is 10°C.
Therefore, the feed either needs to be insulated, which is tricky without the right apparatus, or you would have to find an alternative feed option.
Additional Feeding Tip (Regardless of the Time of Year or Season)
In both cases of feeding sugar syrup, you must remove any supers, that is, the section where the bees store surplus honey before you commence feeding.
The bees don't differentiate between food sources. Nectar is dehydrated and capped as honey.
Sugar syrup is dehydrated and capped as well.
There are those who believe that sugar syrup can be turned into honey, but honey, by definition, is from a plant. Sugar cane is a plant. Sugar isn't.
So, if you're wondering if bees can make honey from sugar water, then the short answer is no.
Therefore, if you harvest capped syrup, the quality of your harvest will not be pure honey.
If you don't believe me, ask some beekeepers who wound up with red 'honey.' One beekeeper used crushed candy cane as a feed substitute for his bees.
The problem was that he used an open feeder instead of putting the feed in the hives.
Neighboring bee colonies found this a prize and proceeded to cap it. Unfortunately, because candy cane is not floral, their product could not be sold as honey, even though it was safe for human consumption.
When to Stop and Not Feed Your Bees Sugar Water
Should you always offer your bees sugar water? Well, not exactly. You will want to stop feeding bees sugar syrup in specific instances.
In the springtime, you may stop feeding honey bees sugar water once the flowers are in bloom.
However, if it's a new package of bees, you may need to keep going for a while. You don't expect to harvest honey in your first year, so the risk of harvesting capped syrup is eliminated.
Allow the colony to get established. The first year is usually the hardest.
Thereafter, you'll only need to ensure they have stored enough supplies to get them through the winter.
Sometimes, that may require you to sacrifice a harvest, but don't put the colony at risk to satisfy your sweet tooth or deepen your pockets.
Sugar only offers half the dietary requirements for a bee. They also need pollen. Bees will collect pollen to make bee bread, which they mix with some nectar and their enzymes that help preserve the pollen.
Nurse bees consume bee bread to feed larvae. Fresh pollen doesn't keep very long. Our substitute for pollen comes in the form of patties. They may not be made from pollen but are high-protein substitutes.
Pollen tends to instigate brood rearing. Why is this important?
You should only provide these patties in the spring because you don't want to wind up with a large population before nature is ready to provide for them.
Adult bees eat honey, which is why pollen isn't a great concern during the winter. You may have a weak hive that needs a little boost coming out of the winter, and pollen patties would be quite handy at that time.
Now that we know why the bees need this sugar water, let's discuss feeders.
4 Common Honey Bee Feeders That Beekeepers Use to Offer Sugar Water to Bees
Sugar water feeders come in various shapes and sizes. You'll find that some colonies may respond better to one type of feeder and ignore another.
They can be like toddlers. In that case, it may be handy to have more than one type of feeder just to be safe.
1. Baggie Feeders
These are cheap and pretty easy to use. All you need is a zip-top bag and something sharp like a knife.
Once your sugar syrup has cooled, you will put it in a zip-top bag. Don't fill it up because you have to cut a slit in the bag once you place it in the hive. If you do that with a full bag, the contents will spill out and mess up the hive.
So make sure the bag is only half full, two-thirds at most.
When you place the feeder in the hive, you need to ensure that the surface it's on and the tops of the frames are smooth.
Anything poking upward should be smoothened before you place your baggie on it.
Of course, you can't smooth down anything with the bees in the hive, so you can place a piece of paper the size of the baggie on the frames first as a protective layer and then place the syrup-filled bag on that.
Next, you cut thin slits in the bag. You must be careful to limit the length of the slit to the 'flat' part of the bag.
Any longer, and the bag will leak. Make about three slits and press VERY LIGHTLY to ensure that the syrup is accessible.
Once you're sure that your bees can get to the sugar water, place a shallow super on the hive to protect the syrup from robbers and cover the hive. That's it. You can refill the bag once it's empty, but it may be easier to get another bag instead.
Pros
Sugar water for bees without the risk of drowning.
No Robbing.
Cons
Re-usability is limited.
Changing feeders can't be done without disrupting the bees.
2. Open Feeder
The name says it all. You simply place the sugar syrup in an open container and leave it about 100 yards away from the hive.
Beekeepers have noticed that bees have trouble finding the syrup if it's too close to the hive.
The reason is still unknown, but there is speculation that since this source isn't a flower and has no distinguishing features or smells, a worker bee doesn't have the adequate moves to tell her sisters where to go in her waggle dance.
Perhaps one day, we'll crack their communication code and know for sure.
Pros
Quick and easy to install. Just place a bucket on the ground and walk away
Refilling doesn't affect the bees
Cons
Drowning – despite adding 'rafts' to keep them afloat, there are always a few who fall into the bee syrup and drown.
Impossible to limit feeding to just your bees, and it may attract other pesky insects
3. Frame Feeder
Frame feeders are feeding containers built in the shape and size of a frame that would hold the honeycomb and fit snuggly in a brooder box.
The top part is open, and the feeder is filled to the top with sugar water. Since it is designed to sit like a frame, all you need to do is remove some of the empty frames from the hive to make some room for the feeder.
It works best if you can place something that floats to reduce the drowning bee fatalities.
The new types of frame feeders have bumpy inner surfaces to make it easier for bees to climb out.
Pros
It fits like a frame, so there's limited spillage as long the hive doesn't topple over.
Cons
Refilling the frame with sugar water requires disruption to the hive.
You will lose some bees to drowning.
4. Inverted Container (Boardman Entrance Feeder)
I'm sure you've come across that water trick where you put an index card on a glass filled with water, and when it's turned upside down and you release your hold on the index card, the water stays put. The principle is the same for these types of bee feeders, which are commonly placed at the hive entrance.
You will probably find one when you receive your package bees. There's a glass jar that is filled with syrup and then placed upside down on a perforated lid like you would on a water dispenser.
The bees access the syrup through the tiny holes in the lid, and because of physics, the sugar water doesn't gush out.
Most beekeepers are happy to use the inverted container but opt to place it in the hive above the frames with a super to keep out the robbers.
Pros
No drowning
The feed is controlled and only accessed by the colony.
Cons
Refills can disrupt the hive, depending on the setup.
If left unattended for too long, the sugar water can get moldy. This can be prevented by adding a little Honey B Healthy to the mix. Even a drop or two of essential oils do the trick.
How to Stop Robbing Behavior When Feeding Bees Sugar Water
When the going gets tough, the tough get robbing. Robbing is set off by the absence of sufficient nectar. This usually happens during warm weather.
The bees are actively searching for food and will resort to stealing from a neighbor if they can't find what they need.
The victims are usually weaker colonies. Italian bees are notorious for this behavior and will target your timid Carniolans any chance they get.
The first thing you need to do to help your colony is to reduce the size of the entryway. If the situation is dire, you may need to close it off altogether, at least until nightfall.
Reducing the size of the entrance makes it harder for robbers to overpower the guard bees, and they are able to inspect the bees before they are granted entry.
If robbing has begun, you can wrap a wet cloth around the hive. That tends to calm things down, but you'll still need to use a good entrance reducer.
If you have two weak colonies, combine them. This has to be done in advance once you suspect there will be a nectar dearth. There's safety in numbers.
Final Word About Feeding Bees Sugar Water
The best bee food is honey. Since that isn't always available, feeding bees sugar syrup keeps them going until nature provides the key ingredients to get them to process honey again.
Even though we want to keep things as natural as possible, watching your colony starve for 'authenticity' would be wrong and irresponsible.
Get your colony through the tough times. Everyone needs a hand every now and again.
Did You Miss These Beekeeping Posts?