Leatherwood Honey is a variety popularized by people in Tasmania, Australia.
As an island state of the 'Land Down Under,' Tasmania shares several of Australia's flora and fauna. In addition, it has its own unique selection of wildlife. The region freely flourishes with a wide array of plants and animals.
Remarkably, some of the world's primitive rainforests thrive here. These temperate places foster something unusually spiced and delightful, the Tasmanian leatherwood honey. And as the name goes, it comes from the nectars of the Leatherwood tree.
11/27/2023 04:09 pm GMT
The Leatherwood Tree
Endemic in Tasmania, Australia, the leatherwood plant typically grows wild in the wetter regions of forests.
Leatherwood's name is likely in reference to the waxy, leather-colored sheath that covers its young leaves and petals.
There are two types of leatherwood trees in Tasmania, Eucryphia Lucida, and Eucryphia Milligan. Both Eucryphia Lucida and Eucryphia Milligan occur as understorey species. Eucryphia Lucida is the most common species and a major nectar source.
Often hidden deep within the forest, mature leatherwood trees can be difficult to access. Still, it is the single most important plant for honey bees in Tasmania.
The plant's floral bouquet is what they feed on, giving this honey its unique taste. Possessing such a notable aroma and flavor, it is indeed a true distillate of a magnificent older landscape.
These trees show off extremely delicate white, showy flowers. Every flower has a piquant scent and considerable nectars. From January until April, they bloom so profusely that from afar, the area looks almost like it's full of snow.
Production of Leatherwood Honey
Leatherwood honey is Tasmania's premier delicacy, which tastes pure yet complex, not to mention its health benefits.
Genuine Tasmanian honey is a product of a unique resource straight from the island of Tasmania. There are no pollutants nor human inhabitants in its pristine environment. so the trees absorb untainted minerals. As of this day, no bee colony collapse has ever been reported in Tasmania.
During spring and summer, the beekeepers transport the hives into dense forests.
The bees visit every flower, a source of considerable leatherwood nectar. They bring it back to their hives and mix it with proteins and enzymes.
Bees deposit this mixture into honeycomb cells. Nature would then work its wonders of turning this abundant food source into Tasmanian honey.
Honey producers preserve the raw condition of honey by carefully extracting honey from the comb. They do not inhibit the honey's natural tendency to crystallize.
Best Tasmanian Leatherwood Honey
Our Top Pick
Genuine Tasmanian Leatherwood Honey by the Tasmanian Honey Company Store
Tasmanian Leatherwood Honey, found only in Australia's island state, Tasmania, boasts the world's cleanest air and water and has some of world's most primitive and ancient and unspoiled rainforests. Leatherwood honey is renowned for its unusual floral bouquet. It possesses a fragrance like no other and a taste which no adjectives can adequately describe. Place a blob in your mouth and your senses are instantly awakened by the piquant perfumes of the Leatherwood blossoms. The aroma is robust, yet so lovely and pleasing to the palate.
Like red wine is to grape juice, Leatherwood honey is the red wine of honey. Leatherwood Honey is sustainably produced with tremendous care given to bees (no bee colony collapses have been reported in Tasmania). It's no wonder why Leatherwood Honey is recognized by honey connoisseurs as one of the finest and rarest honey in the world. It is an irreplaceable honey and definitely one which is worth a try.
We earn a commission if you make a purchase, at no additional cost to you.
11/27/2023 04:09 pm GMT
Runner Up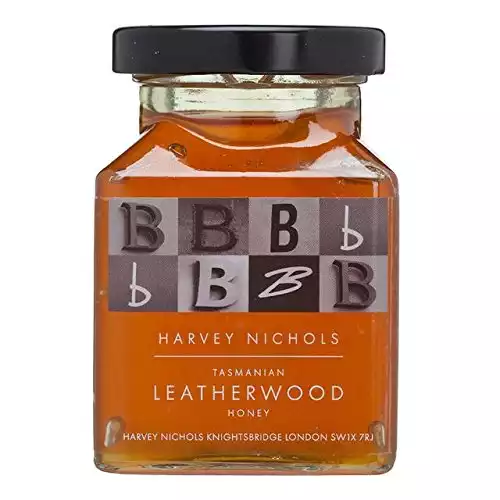 Tasmanian Leatherwood Honey by Harvey Nichols
Harvey Nichols Tasmanian Leatherwood is a clear honey that has a strong, aromatic flavour unique to this honey.
Golden yellow in colour, it is produced in Tasmania, Australia, known for its natural landscape and beauty.
We earn a commission if you make a purchase, at no additional cost to you.
Qualities of Leatherwood Honey
Appreciated by most honey connoisseurs around the world, leatherwood honey is indeed one of a kind. Its spicy floral aroma and strong piquant flavor make this variety distinct from other types of honey.
With its floral aroma and creamy yellow-to-ochre color, you will surely give it a try.
Its sweet scent is captivating, and its taste is no less than luxurious. The balsamic tones develop into clean, fresh notes of citrus fruits and white flowers.
Deeply complex, leatherwood honey has a savory profile that catches tasters by surprise. Some even describe it as tasting the wilderness itself. Its sweetness has some tinge of musk and spice with a long finish.
Having an extremely fine crystal structure makes it easy to spread at room temperature.
The sensation of eating leatherwood honey is absolutely delightful due to its creamy and smooth texture. It is not too sweet nor acidic, melts in your mouth, and offers a lingering pleasant aftertaste.
Uses of Leatherwood Honey
Leatherwood honey's distinct flavor works best when spread on warm toast or plain scones. You will love it with crackers and other breakfast foods, too.
Others use it as a secret spice in cooking or as a baking ingredient for a honey cake recipe.
It is fairly easy to spoon in and mix in whatever beverage you wish. Its taste complements a 'hot toddy' or a lemon tea.
Try recommending it as a feel-good remedy for someone under the weather, and they'll get better in no time.
Leatherwood Honey Benefits
Is Leatherwood Honey healthy?
With its healing and health benefits, Tasmanian leatherwood honey is twice or thrice richer in antioxidants than other Australian honeys. Antioxidants possess anti-aging and anti-inflammatory properties that are beneficial in the prevention of health-related issues.
This honey varietal has long been used for treating wounds, cuts, sores, ulcers, burns, infections, and abrasions. Described as a healing tonic, the antimicrobial properties in this wild honey act to help in healing. It keeps the wound moist whilst adding a protective barrier and fighting off harmful microorganisms.
It also boasts prebiotic properties that can both suppress bad bacteria and alleviate stomach problems. This variety also assists in the growth of beneficial organisms in the body.
Leatherwood honey contains simple carbohydrates that provide the body with energy. It has a low glycaemic index rating and may be suitable for the diet of diabetic patients.
Leatherwood Honey Recognition
Leatherwood honey's sharp, musky flavor was once considered too strong to be desirable. However, along with the changing times, acquired tastes have also evolved.
Thus, in 2015, the Apimondia International Apicultural Congress named it the best-tasting honey in the world.
Recognizing that leatherwood honey is a rare treat, the International Slow Food Movement included it in the Ark of Taste.
This movement promotes and protects the enjoyment of foods made from natural, fresh ingredients using time-honored techniques.
Scarcity of Leatherwood Honey
Unfortunately, leatherwood honey is so rare. Acquiring this delicacy is no easy feat.
It takes a juvenile tree 70 years before it reaches nectar-bearing maturity in far-flung locations. Hence, if anything happens to the often centuries-old trees, there's no replacing them anytime soon.
Access is also a challenge as, most often, the roads leading to the rainforests are inaccessible.
Also, the process of producing this honey is time-consuming manually. With these factors, yield quantities are not in abundance.
Nonetheless, every honey producer remains undeterred.
One Tasmanian honey company actually flies hives into inaccessible parts of a rainforest with helicopters. Another has beekeepers camp out in the area during harvest season to maximize production. 
Did You Miss These Beekeeping Posts?